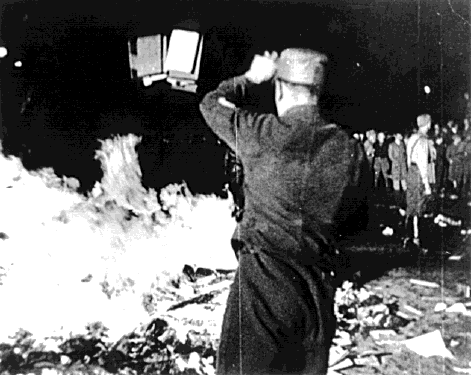 Third Reich book burning. Now American authors are incarcerated for ideas in Israel: one of only three nations not to ratify the Nuclear Non-Proliferation Treaty (N.P.T.) of 1968.
Dear friends,
ACT NOW:
 
  Flood the Israeli Ministry of Interior with faxes, emails, calls. 

 

DEMAND THAT DR. FINKELSTEIN BE PERMITTED TO ENTER ISRAEL IN ORDER TO REACH THE OCCUPIED PALESTINIAN TERRITORY!
Minister of Interior Mr. Meir SHEETRIT
Israeli Ministry of the Interior 
2 Kaplan St., Qiryat Ben-Gurion 
P.O. Box 6158, 91061 Jerusalem  
Tel.  +972-2-670-1411 / +972-2-629-4722 
Mr. Meir SHEETRIT's numbers at the Knesset 
Telephone 1:Â Â Â Â Â +972-2-640-8410
Telephone 2:Â Â Â Â Â 
 
+972-2-
 
640-8409
Fax:Â Â Â Â Â 
 
+972-2-
 
640-8920
It is now Friday night and the Ministry will be closed through Saturday for the Jewish Sabbath. Thus, if you are in the US please call your congressman [sic: congressperson!] and senator NOW and advise them a Jewish American U.S. citizen is being denied access to Israel!!
Also,

 

CALL the STATE DEPT's Hotline for American Travelers: 202-647-5225and let them know this is happening and is in violation of international law. 
If you are an Israeli, please start working the phones…this denial of entry is all being done in your name!!
The only 'democracy' in the Middle East strikes again,
Name of source deleted by Ed.