THE ENTIRE PURPOSE OF ACADEMIC FREEDOM IS TO ALLOW FREEDOM OF EXPRESSION IN TEACHING, RESEARCH, AND IN EXTRAMURAL UTTERANCES AND HERE I AM CENSORED AND SILENCED BY A PERSON WHO DARES TO VIOLATE MY ACADEMIC FREEDOM IN A DE FACTO IF NOT DE JURE MANNER!!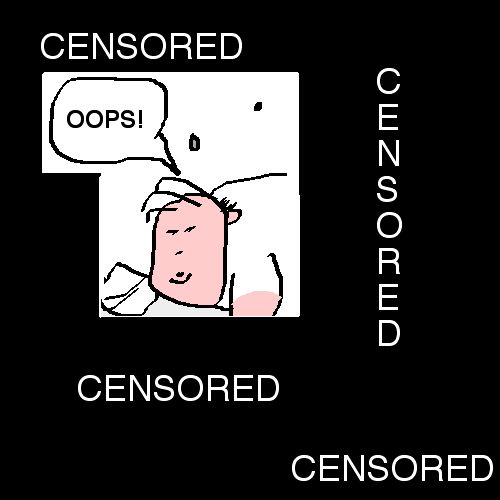 Source: http://www.cyberbarf.com/GonArt%20Folder/Censored.jpg
I have tried to merely include this blog in the bibliography of "Academic Freedom" on Wikipedia and a Gwen Gale –self-appointed CENSOR– removes it because it is too "radical" and a "private" blog. Instead of behaving in a civil manner, this "owner" of Wikipedia has blocked me from further editing. Such cyberpower is abusive and worthy of condemnation but I will not be silenced by this Ms Gale who dares to censor me. I have this blog, I have my website, I have many vehicles of expressing my views!! Who are you Ms Gale to determine who is politically correct and meets your ideological litmus test of approval before they can put a link on Wikipedia? This is America! What do you know about academic freedom? Are you a university professor or otherwise an expert on the subject?? I would never censor you but defend your rights of speech. I am willing to conduct in an adult manner a civil and polite exchange DIRECTLY with you. This is my e-mail kirstein@sxu.edu.
Goodness, many of the entries are "private" if there is such a categorisation on the Internet! On Saturday, November 8, 2008 and Sunday November 9, 2008 I professionally linked this blog under the bibiliographic category "Web Resources and Support Organisations." Three times Ms Gale removed it for stated ideological reasons–a kind of sub rosa vandalism–within minutes! This person clearly cannot claim ownership of that site and in the absence of vandalism, vulgarity, libel, ad hominem remarks or abusive commentary, had no legitimate right to remove it. I am a specialist and published author on academic freedom and will not allow such egregious interference with my first amendment rights.
Several of the entries under "Web Resources and Support Organisations" even LINK my blog: College Freedom, DePaul Academic Freedom Conferences and FIRE was the prinicpal organisation that defended me when I was suspended for antiwar e-mail. My credentials having my blog included on AN ACADEMIC FREEDOM PUBLIC WEBSITE are substantial.
I am a tenured, full professor at St Xavier University.
Vice President AAUP Illinois Conference. Member of Committee A on Academic Freedom and Tenure, Ill Conference
Served on National AAUP Committee on Membership.
Past president St Xavier University AAUP chapter and Ex Officio member of its Executive Committee
Involved in national academic freedom case.
Lecture nationally on academic freedom including such institutions as New York University, American University, DePaul University, Valparaiso University, etc.
Published article in AAUP Academe on teaching Iraq War and academic freedom.
Blog was principal online disseminator and defender of persecuted Professor Norman Finkelstein.