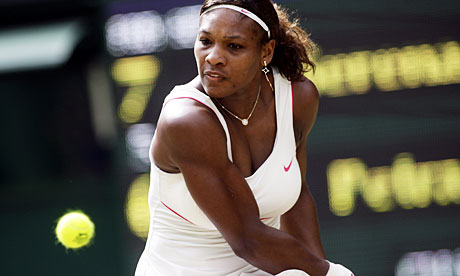 Serena Williams Wimbledon defeat to Marion Bartoli some say was good for the game: Kim Clijster's return was wonderful for the game? I see blatant hypocrisy and prejudice here.
I was stunned when John Patrick McEnroe the color analyst for Wimbledon on NBC expressed satisfaction that the Williams sisters lost their fourth-round matches at the All England Club. While he did note it was not good news for the US, as if this is were the Olympics, he said he was glad they lost as if to prove that women's tennis has evolved beyond the skill-level of the remarkable sisters: Venus and Serena. He said their defeats were good for women's tennis. Others have picked up the mantra that the Williams sisters are implicitly arrogant, believe they do not need to play a lot of tennis, and expect to compete merely in the majors (US, UK, French and Australia) and a few warmup tournaments. They know to avoid Indian Wells for fan-racial abuse that apparently occurred there several years ago. If they lose, Mr McEnroe believes it proves that the level of women's tennis has accelerated and due to their limited play they are undeserving of any future Grand Slam titles. Sorry, if you win a match that is all that counts. One does not have to serve an apprenticeship or compete in sun-baked tournaments to prove one's mettle. If one can win tennis tournaments on the run, without flying all over the world in search of victories, that is great and indicative of great athletic prowess.
Rarely, does one hear such sentiments, even from the mouth of the worst violator of sportspersonship in American sport, well maybe Ty Cobb, that an athlete's defeat benefits a sport. Such bias should be considered highly unprofessional for a broadcaster. I doubt if Mr McEnroe who frequently abused referees, linespersons and even an occasional ballperson with the snap of his hand, believes his success damaged the integrity of tennis and his broadcasting career validated his unprofessional, appalling behaviour?
Ever hear of the media darling Kim Clijsters? The tennis mom from Belgium. Maybe Mr Verbal Abuse McEnroe is unaware that she retired from the sport in 2007, playing her last tournament in Warsaw. She then returned to tennis in March 2009 and within a few months won her second raucous US Open in New York. Ironcially, she defeated Serena Williams in the famous, foot-fault protest semifinal. Did anyone complain that Ms. Clijsters won? Did anyone say her ease in winning a major after two years out of tennis showed how weak the women's circuit was? Indeed analysts emphasised how remarkable her comeback was; that not since Ms Evonne Goolagong had a mother won a major Grand Slam tournament.
Serena Williams severely cut her foot and was afflicted with a potentially life threatening pulmonary embolism: I would think a tournament victory for Serena Williams would be more remarkable than post-partum resumption of a tennis career by the Belgian-tennis great. Who by the way missed the French, the greatest of the slams, and Wimbledon? Answer Ms Clijsters. What will the tennis establishment pronounce if she wins the US Open for the fourth time? Another wonderful comeback and an ironic contrast to the cultural bias against the Williams sisters!